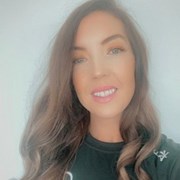 Contact
Free first session offered
Email me
Emma Houldsworth
For nearly 20 years I was unhappy with my weight and struggled with body image. I tried every fad diet, quick fix and slimming group, sometimes having some initial success, I always regained any weight I'd lost and often put on even more. I joined the gym several times, but I was anxious being there and too scared to go into the weights area because I didn't know what I was doing. With no motivation I'd give up feeling like a failure and be annoyed at myself! I joined this gym and I hired a PT. I lost 4 stone, gained confidence and discovered a love for health and fitness. I loved weight lifting, and competed in bodybuilding as a bikini athlete. I'm now a PT and I get to coach people through their own journey.
.
The service you can expect from me and who is for?
I work with men but specialise in working with women who want to make the most of their gym membership and make positive changes to improve their health, fitness and nutrition. If this sounds like you then I'm here to support you every step of the way, whether you're looking to lose weight, gain muscle or improve your body confidence.
As a mum of two, I understand the challenges of juggling family and work commitments, together we can set some realistic achievable goals without cutting out all your favourite foods and that fits in with your busy lifestyle. I will create an enjoyable, effective individual training program, I will educate you on the correct technique and help you with your confidence both in and out of the gym. If you are willing to make small but committed changes over a period of time and you can be open and honest with me about any struggles you are facing then I can guarantee you results.
If you have any questions or need any help please don't hesitate to come over and say hi, or call or text.
Feel free to follow me on social media where I give lots of free information, tips and tricks of the trade! Insta- emmahfitness_
Specialist Areas
Body confidence
Body fat reduction
Muscle tone and development
Nutritional guidance
Persistent motivation
Weight loss
Qualifications
Level 2 Fitness Instructor
Level 3 Personal Trainer