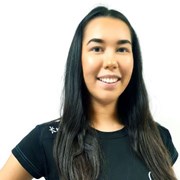 Contact
Free first session offered
Email me
Emily Swynnerton
Having been into fitness and exercise my whole life, with strength training being my passion, I am keen to share my love for training with others, assist people in achieving their goals, and help people become the best possible versions of themselves.

I specialise specifically in weight training, with my vision being primarily to use resistance training to help improve your health and wellness, so that when you do other things whether it be sport or work related, your core strength will be better, your posture will improve, your focus will be better, and ultimately you will feel not only physically stronger, but mentally stronger as well. Resistance training I believe, is the foundational block to living well, and will improve everything else you do in life. My philosophy also includes highlighting the holistic benefits of resistance training, where I believe the mental benefits of weight training are just as important as the physical. Nothing beats the feeling of seeing physical progress within your body, and together, we will achieve your goals and have you feeling strong both mentally and physically.

No matter what your goals are, whether it be muscle gain, weight loss, maintenance, or strength building related, I create bespoke and personalised training programmes to target your specific goals, whatever they may be, so that I can assist you in your fitness journey, and you can become the best version of yourself!

If you have any questions or would like to have a chat, please feel free to email me or alternatively you can find me around the gym.
Website: https://emilyswynnerton.com/
FUN FACTS
• I was a cheerleader for 4 years throughout university.
• I am a fluent mandarin Chinese speaker.
• I hate coriander because I have a gene that makes it taste like soap.
Specialist Areas
Muscle tone and development
Postural correction
Strength and conditioning
Qualifications
QUALIFICATIONS
• Level 3 Personal Trainer
• Level 2 Fitness Instructor
• Certified kettlebell training
• Certified TRX suspension training
• Certified padwork training
• First Aid qualified
• MSc Marketing
SPECIALIST AREAS
• Weight training
• Body recomposition.
• Muscle gain
• Bespoke training plans
• Nutritional guidance
• Weight loss