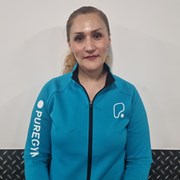 Elham Asgharzdeh
Hi, I'm Elham,
When I first started my fitness journey, I was anything but the picture of health. After giving birth to my two children, I gained a lot of weight. I realized that I was 35 kilograms overweight due to childbirth, so I decided to do something about it by immersing myself in a new lifestyle and I have never regretted it.
However, I had many ups and downs. It took me years before I decided to completely review my training and make the necessary changes. I started exercising in gyms about 9 years ago in Iran and three years ago in this country. Learning how to use metabolic training and HIIT completely transformed my body. It's what I enjoy the most!
I am passionate about helping others find happiness in life and to help them feel good about themselves. I believe that when you FEEL GOOD, you will excel in life.
For me, a healthy lifestyle is much more than lifting weights. It's about warming up, eating healthy and getting enough sleep. My goal is to help you achieve a happy, risk-free lifestyle that minimizes future health problems.
Specialist Areas
Body confidence
Body fat reduction
Muscle tone and development
Persistent motivation
Strength and conditioning
Weight loss
Qualifications
Level 3 Personal Training