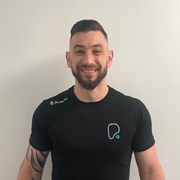 Edward Williams
You're probably wondering how I'm different to any other Personal Trainer here? Well, let me tell you a little about me!
Firstly I've been there, I know how hard it is to change, I know how difficult it is to find motivation for exercise when you're unhappy about your body and low in confidence. As I also sought advice from a Personal Trainer many years ago, I know and understand how beneficial having someone there to help you and motivate you towards achieving your goals through hard work. But still having fun and feeling amazing with results exercise has to offer.
So why come and train with me?
I understand Personal Training from both the clients and trainers perspective. I know what it takes to achieve the results required to feel and look amazing whatever your goal might be. I'm extremely passionate about my job and my clients, so don't hesitate to come and speak to me about Personal Training or even just for some training and nutritional advice.
Specialist Areas
Bespoke plan
Body confidence
Functional specialist
Muscle tone and development
Strength and conditioning
Qualifications
Level 4 Strength and Conditioning Coach
Advanced level 3 Personal Trainer
Olympic Weight Lifting Coach
Master Kettlebell Instructor
Running Techniques Coach
Level 3 Nutrition and Weight Management