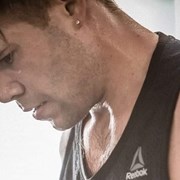 Contact
Free first session offered
Email me
Ed Bedbrook
Hello reader, My name is Ed
My friends refer to me as Duracell
Can I help you achieve your goals?
Do I have the skill set to help you train and attain everything you want? YES!
With an extensive personal background in mental health and physical injury, I can put myself in your shoes (or trainers) to fully understand your personal situation and help you achieve your goals
To create a new version of you. It will be you, but a faster, stronger, healthier, better version of you.
I am here to help no matter your background, body type, gender, religion, or sexual orientation. Let's take control of your future and get an amazing foundation set for the rest of your life
I offer a free consultation plus a free 45 minute session, so that I can have a true understanding of what my clients want and also to see the level of capabilities. Let's start creating the upgraded version of you!
In the past 10 years, I have learnt how nutrition and exercise can help me achieve a 50kg weight loss. This 10 year journey had many highs and lows including, physical and mental illness.
Specialist Areas
Body confidence
Nutritional guidance
Sport specific training
Weight loss
Qualifications
Level 3 Personal Trainer
Les Mills Certified
Nutritional Adviser