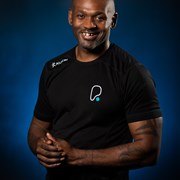 Dwayne Hinds
Hello, I'm Dwayne. I am very passionate when it comes to training and collecting results for anybody wanting to achieve their fitness goals. I work with many diverse clients that have different types of goals whether it be improving their strength, muscle tone fitness, weight loss, muscle gain and mental wellbeing levels.
I collect as much data on clients as possible along with taking before and after images to show true change on individuals. I also know that nutrition plays a huge part (70%) in our training and can offer good nutrition guidance to help shift any bad habits you may want to leave behind you. I provide safe and motivational training packages to suit everybody and aim to get you the results you desire, injury free.
I also possess a level 3 and 4 diploma in Sports and Clinical Massage Therapy, whether you are mentally or physically stressed I provide outstanding treatments to get you back to your 100%. Massage plays another huge part of our health and wellbeing as when we work our bodies out through every day living and at the gym recovery periods are just as important and depending on how many times a week you attend the gym massage therapy can help your body reach your goals. Why? Because it improves blood circulation, repairs muscles preventing post-gym muscle pain, releases built up toxins in the body and lots more.
Thank you for taking time out to read my profile and will see you around soon.
Personal Training
* Training plans
* Deep Tissue / Sports Massage Therapy
* Clinical Massage Therapy
* Basic Self defence
* Body Toning
* Circuit Training
* Muscle development and Building
* Cross Training
* Fitness and Strength expansion
Specialist Areas
Bespoke plan
Body confidence
Body fat reduction
Injury prevention and rehabilitation
Muscle tone and development
Nutritional guidance
Persistent motivation
Postural correction
Pre and post natal
Sport specific training
Strength and conditioning
Weight loss
Qualifications
Level 2 Fitness Instructor
Level 3 Personal Training
First Aid Qualified
Level 3 Sports Massage
Level 4 Clinical Massage
Basic Nutrition Advice