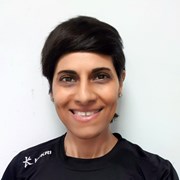 Dimple Vadher
The journey of life is not an easy one, but once you focus on your Health & Wellbeing everything else falls into place.
I found the missing piece to my jigsaw when I met my Coach over 2 years ago. This encounter sparked off a real love and passion for Health & Fitness, which has had a positive knock-on effect on my mental and physical capabilities and the desire to help and inspire others. I strongly believe exercise should be made fun, enjoyable and accessible to all. There is more to fitness and beyond having a fit body - it's the way of life.
I am known to be a motivator and able to support others in unlocking their hidden gems. My aim is to provide you with a bespoke training program tailored around your fitness and personal goals with nutritional guidance, help build on your self-esteem, confidence and develop strategies to make a long-lasting impact on your mind, body and nutrition.
"Surround yourself with those who see greatness within you, even when you don't see it yourself!" Wherever you are on your journey I can help you spread your wings and fly to greater heights
    Teamwork makes dream work!
Specialist Areas
Bespoke plan
Body confidence
Body fat reduction
Muscle tone and development
Nutritional guidance
Persistent motivation
Weight loss
Qualifications
* Level 2 Fitness instructor 
* Level 3 Personal Trainer 
* First Aid 
* Mental Health First Aid at work.
* Foundation Life Coaching