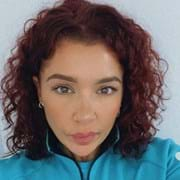 Deanna Yaroo
GET TO KNOW ME
Hi my name is Deanna and I'm the Assistant General Manager of Pure gym Crayford, I have worked in the fitness industry for over 8 years.
I have a natural passion to help others make fitness a lifestyle.
My own fitness journey started in 2013. I struggled deeply with self-confidence and suffered with anxiety. Which caused me to feel uncomfortable in my own body, so I decided to turn my weaknesses into strengths.
Doing so changed me as a human being and lead me to find my calling, which is to help and inspire others to feel confident in their own body.
IT'S ALL ABOUT YOU AS A HUMAN BEING
Make a decision
Heart set
Health set
Soul set
Now we work together in using these techniques as the four foundations in making fitness a lifestyle.
SPECIALIST AREAS
Weight loss/Fat burn
Body building
Body shaper
Body transformation
Glute growth
Technique 
Form
Mind to Muscle connection
Women's health
Sciatica recovery
Mental health advice
Specialist Areas
Bespoke plan
Body confidence
Body fat reduction
Muscle tone and development
Nutritional guidance
Strength and conditioning
Weight loss
Qualifications
Certified Personal trainer
First Aid