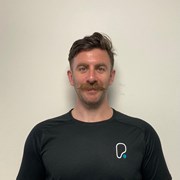 Contact
Log in to view contact details
Dean Cleary
Hi, I'm Dean, one of the Personal Trainers here at Pure Gym Tyldesley.
Although I have been training for over 15 years, I once struggled to even leave my bed and face the day. My mental health struggle made life difficult to bear, and my herniated discs made movement near impossible. Through physio, and cognitive therapy I was provided the skills to develop a routine and build a foundation for my life. Strength and conditioning are the roots of that. 
I believe strength to be the principle that makes everything possible. As human beings we are a system of systems and if one of these is weak or dysfunctional the whole body will work hard to compensate, which will increase stress over different systems. I believe strength training exposes the weaknesses in other systems, and I have utilised this knowledge to identify and address my lacking systems. 

Through this I have developed my own holistic health, and functional fitness approach. I am excited to share this approach to health and fitness with you and develop your physical literacy so that you can improve your strength through all aspects of health and fitness.
Specialist Areas
Injury prevention and rehabilitation
Muscle tone and development
Strength and conditioning
Weight loss
Qualifications
Level 2 - Fitness Instructor
Level 3 - Personal Trainer