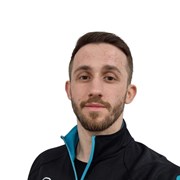 Dean Aitken
I have come to Pure Gym to offer my services bringing with me my wealth or experience and knowledge gained from having been an active trainer in the industry for close to a decade.
My background includes - Strength and conditioning, weight loss, body recomposition, strength and athletic development! 
Does your goal feel out of reach or harder to attain than you'd like.. or maybe you have the wrong goal or understanding of how to get there? Why not invest your in yourself!  
Specialist Areas
Body fat reduction
Sport specific training
Strength and conditioning
Weight loss
Qualifications
Level 2 - Gym Instructor
Level 3 - Personal Trainer
Level 4 - Strength & Conditioning
Level 1 & 2 - Weightlifting Coach