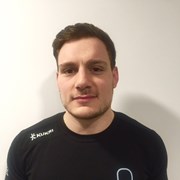 David Deufemia
I have been working here at Highgate for seven years. Over that time I have shared my knowledge and enthusiasm for exercise with a vast amount of local residents and workers.
My path to this point began in various sports. After this was a development of weight training and then into studies on the subject.
Various setbacks, including knee injuries and lower back immobility, guided me to learn what was causing the issues and how to prevent them at a deeper level of understanding. It's from here that I began placing a huge emphasis on mobility, core strength and correct movement patterns.
Your motivation to exercise will vary, from feeling physically stronger to changing how you look, but establishing what we want is the first step. I pride myself on helping you set goals, establishing objectives to reach them, then celebrating the success of achieving them. Issues like fatigue, repetition of bad habits, lack of motivation, diet, inactivity, injuries, time and postural misalignment can prevent us from reaching our potential. This is where we change things!
The structure of your plan will focus around:
-movement (how we are moving)
-understanding (why we are moving/training)
-development (achieving huge goals)
To discuss a little further through a short consultation, feel free to contact me or speak to me on the gym floor.
Specialist Areas
Body fat reduction
Functional specialist
Postural correction
Strength and conditioning
Weight loss
Qualifications
Level 3 Advanced Personal Training Diploma