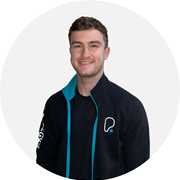 Danny Lamb
Hi, I'm Danny. I'm new to the fitness industry and come with fresh ideas, new principles, and evidence-based training methods designed to smash all of your fitness goals; whether that be hitting a new PB, body re-composition, or simply just feeling healthier and moving better.
We know that to optimally achieve our goals we need consistency in both our training and our diet. However, sustaining even just one of these factors can be a struggle for many. Marrying together my knowledge and experience in both training and nutrition, I can help you create sustainable lifestyle changes that will massively enhance both your training and your life outside of the gym!
If you want to get stronger, build muscle, lose fat, feel better, and make lasting lifelong changes then contact me today and we can start working towards your goals!
Specialist Areas
Sport specific training
Strength and conditioning
Weight loss
Qualifications
Level 3 Personal Trainer
MSci Sport, Exercise & Health Sciences
Post Graduate Diploma in Nutrition (In Progress)