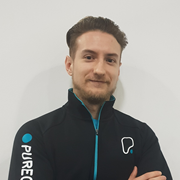 Daniel Ene
Hi, I'm Dan. I have been into fitness and sports for as long as I can remember. I am a former athlete, specialised in field events such as Long Jump, Triple Jump and Sprint, who has acquired over 7 years of experience in weight training and physical exercise.
I used to be a very skinny, shy kid who was advised to do little to no physical activity at all as it may affect my health. One coach changed my perspective by teaching me how to properly perform physical activities, one step at a time.
My fitness journey started with a small thought: "What if I can do better?". With that thought in my mind, I was able to do even more than I was told I could do.
It led me to become an athlete with an amazing performance and one of the top students at UOC Romania in Sports Coaching and Motor Performance, which gave me the opportunity to acquire different roles, such as a Conditioning Coach and Data Analyst for the Romanian National Rugby Team.  My hobby turned into research and my passion became my profession.
No matter what your goals are, whether it's weight loss, muscle gain, or simply getting fit, if you share that similar small thought and it is circling your mind, I believe I can offer you the right tools to shape it into reality.
Specialist Areas
Bespoke plan
Body confidence
Muscle tone and development
Qualifications
Level 3 Personal Trainer
Level 2 Fitness Instructor
BSc Sports Coaching and Motor Performance
Nutritional Advisor