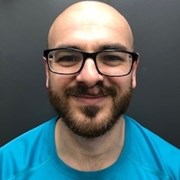 Craig Burrell
I have been lucky enough to make my hobby into a career and have recently qualified as a Level 2 & 3 Personal Trainer.
Fitness is my passion, I've trained for over 20 years, love most sports and being outdoors.
I mainly help people who want to move better and focus on using functional fitness to aid their daily lives. I've recently had a baby son and he is my inspiration in leaving behind the corporate world and using fitness to have lasting fulfillment as I get older.
Are you enjoying your gym experience?
Do you struggle to know what to do?
Do you feel like no matter what you do, nothing changes?
Or have you simply run out of ideas on how to challenge yourself in your workouts?
Come and work with me and together we can ensure you are working to the best of your ability, we can make your body as strong and healthy as possible whilst ensuring you look and feel your best.
Together let's build your confidence, make you stronger, optimise your posture alongside developing your core control and balance.
Whether your goal is weight loss, building muscle, getting fitter or something else – I can support you on your journey.
Come and say hello to me if you see me in the gym, I'm very happy to give you some free advice or support.
Alternatively, you can contact me on 07557376751 or collect my business card from the PT board.
I look forward to joining you on your journey!
Specialist Areas
Functional specialist
Weight loss
Qualifications
My qualifications:
Level 3 Diploma Personal Trainer
Level 2 Diploma Gym Instructing