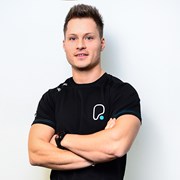 Claudiu Popa
My career as a Personal Trainer was initially inspired by the passion for sports, working out and keeping mentally and physically fit. I'm driven by helping individuals achieve their fitness goals and maintaining a healthy lifestyle. 
The passion for sports and fitness has pushed me to challenge my own fitness in a variety of competitions such as Triathlon, Obstacle Course Running, Swimming or Men's Physique, taking home not only medals and trophies but great knowledge and experience that I can bring along with my qualification.
Whether you are only starting your fitness journey, looking to lose weight, increase your muscle mass or simply improve general health and fitness or you are already further on your journey as well as a Pro Athlete and want to step the level up with a professional's guidance, I have the right skills to not only help you achieve these goals but make this experience educational, fun and enjoyable, teaching you how to overcome your weaknesses and barriers for long-term changes.
My goal is to help you understand the process and choices to make for a better, healthier and fitter you.
If you are interested in pursuing a career in fitness, becoming a Personal Trainer, I can also guide you through the qualification and assessment process as a mentor and assessor for PT Academy.
Contact me for more information of how we could start working together towards your goals or to qualify as a PT with PT Academy.
Specialist Areas
Bespoke plan
Body confidence
Functional specialist
Injury prevention and rehabilitation
Muscle tone and development
Nutritional guidance
Persistent motivation
Postural correction
Pre and post natal
Special populations
Sport specific training
Strength and conditioning
Weight loss
Qualifications
Level 4 Strength & Conditioning
Level 3 Advanced Personal Training
Level 2 Fitness Instructing
Nutritionist & Food Intolerance Testing
Olympic Weightlifting
PT Academy Mentor & Assessor