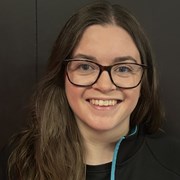 Claire Phippen
Hello, my name is Claire 
What brought you to the gym? Well, if you're here reading this, you're ready to make a change and I'm here to help! 
I have a passion for health, fitness and nutrition. When we work together, I like to help you understand why you are doing what you're doing. I will help you build better and more effective habits, both in and out of the gym, to develop a sustainable lifestyle and mindset that you can be proud of. Whatever your goals are, we'll face them together, using evidence and education to make sure you are always progressing. And above all, we'll have fun! 
I specialise in pre- and post-natal exercise and nutrition, weight loss, strength training and mobility. I am training to be a nutrition coach. 
Specialist Areas
Body confidence
Nutritional guidance
Pre and post natal
Strength and conditioning
Weight loss
Qualifications
Level 3 Personal Trainer
Level 2 Mental Health Awareness 
Level 3 Pre and Post Natal Exercise and Nutrition