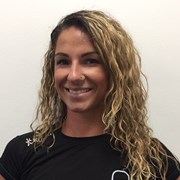 Claire Delaney
Hi, I'm Claire. 
As the longest serving Personal Trainer here at Shirley, I have the knowledge, experience and track record to help you change your journey and get results, both physically and emotionally!
I believe that the key to a longer, healthier, happier life, is investing in and looking after your body. Making the right decisions in the gym and making small steady changes to your lifestyle will get you to your body/fitness goals. This is where I can help, using my knowledge and experience to take control of your fitness regime. Whether it's building lean muscle mass, improving lower back pain, fat loss, training for an event or simply improving your general fitness level, I can help.
My own journey has been a rocky one, but once I found that there's no quick fix and that doing the right things with diet and exercise is the key, things became much clearer. I also found that there is so much enjoyment and satisfaction to be had when you embrace a regular routine in the gym; the results are actually just the cherry on top!
This is why I stress how important it is not to waste time doing the wrong things, as this will hinder your progress and almost deflate you in your efforts. I've been here too! Not seeing much difference, paying a gym membership for years and staying the same shape thinking 'what's the point'? Does this sound familiar to you?
Give me a call for a free no-obligation consultation and let's discuss your options. I will get you to where you want to be.
Specialist Areas
Body confidence
Body fat reduction
Functional specialist
Muscle tone and development
Postural correction
Strength and conditioning
Weight loss
Qualifications
Level 3 Personal Trainer
Level 2 Fitness Instructor
Nutrition
Boxing