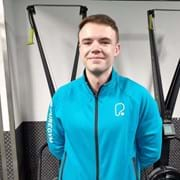 Christopher Mockus
I'm a personal trainer here at Pure Gym and my sole
objective in this role is it to have a positive impact in
your life by working with you to improve your physical
and mental well-being.
Throughout most of my life I have struggled with my own
weight and body confidence but through developing a
passion for fitness and working out I have developed a
better relationship with my body, improving my physique,
strength and mental health in the process.
Following my own experiences I understand how difficult
it can be to make the substantial lifestyle changes that
are necessary in this process and that is why I want to
help you along the way.
If you struggle with confidence in and out of the gym,
want to lose body fat, develop muscle or just improve
your general fitness then please do not hesitate to
contact me and let me support you in your own journey.
Specialist Areas
Body confidence
Body fat reduction
Muscle tone and development
Strength and conditioning
Weight loss
Qualifications
Level 2 Gym Instructor
Level 3 Personal Trainer