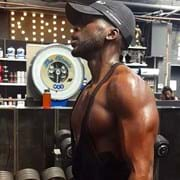 Chris Kiganda
I specialize in booty building, body transformations, muscle building and toning along with overall fat loss.
My goal is to help people become the best versions of themselves. this is achieved through tailored training packages and revamping your approach to nutrition. you will be amazed at what you can achieve. 
Whether you are getting in shape for an occasion, just want to lose a bit of extra weight or you have decided to make a lifestyle change, i can help with all of the above. 
Support will always be on hand via phone, email or social media, this will allow us to check in and make any required adjustments, all I expect from you is commitment, let me take care of the rest. 
Consistency is more important than enthusiasm, consistency will push you through the hard days when your enthusiasm is lacking. 
Specialist Areas
Bespoke plan
Body confidence
Body fat reduction
Muscle tone and development
Nutritional guidance
Persistent motivation