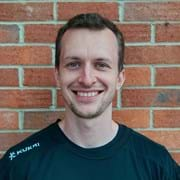 Chris Hughes
As a personal trainer it is not just about the one to one sessions we spend together in the gym, it is about creating a unique and personally tailored plan that fits the individual's lifestyle.
My specialisation is weight loss. I help people lose weight and more importantly keep the weight off. By creating new habits we will ensure that the progress you make will last a lifetime.
It's my mission to ensure every single client achieves the results they desire, whilst educating you to know all you need to regarding training, nutrition and mindset. Every step of the way you will know what you are doing and why you are doing, so well, that you can do it all on your own in the future.
I've learnt from some of the world's best personal trainers throughout my career to learn the best techniques so that I can help my clients get the results they crave. I am continually educating myself to ensure the service I deliver to my clients is the best it can be.
I am 110% committed to my clients as they are putting their trust and into me. If you are serious about making a change, losing weight, keeping it off and putting in the work then I would love to work with you. Reach out and let's talk.
Instagram - @chrishughescoach
Specialist Areas
Body fat reduction
Muscle tone and development
Nutritional guidance
Weight loss