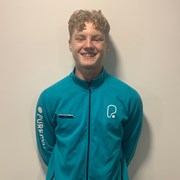 Contact
Free first session offered
Email me
Chris Gillan
As someone who has been involved with a variety of sports for a number of years, I've always been one of the smallest so I had to improve my skill just to keep up with people the same age as me. However, since I have started my fitness journey in 2018 I found a piece of mind with the gym and stopped worrying about trying to compete with team members and started doing it for my benefit. 
I'm always looking for ways I can improve myself whether that is mentally or physically. I'm keen to better myself and I want you to do the same. I want to help you become the best version of yourself mentally and physically.
I became a personal trainer because I want to help everyone and anyone on their fitness journey, whether that's with motivation, form, advice on how to lose weight or gain muscle, I want to be there for you.
Specialist Areas
Muscle tone and development
Persistent motivation
Sport specific training
Strength and conditioning
Weight loss
Qualifications
- Level 2 Fitness Instructor
- Level 3 Personal Trainer
- Level 3 SAQ Coach 
- Level 2 S&C Coach