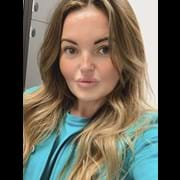 Contact
Free first session offered
Email me
Charlotte Mangan
I know everyone wants the perfect "Instagram body" with the big bum and most of us fear the gym itself with no clue where to start! I am here to help you realise the importance of training different muscle parts, correct technique and the importance of rest and recovery.
I did every diet going - slim fast, no carbs, eating 700 calories a day, not eating when out at social meals, you name it I've done it all. I lost weight, but I wasn't happy, and I had no energy what so ever and I piled on the weight and more!
I began lifting weights without the endless cardio and everything changed! I became strong and lost weight and more importantly it stayed off. It becomes a way of life, a stress relief, and most importantly the feeling it gives, improving my health, skin, hair, and I loved seeing changes in myself and pushing myself.
I became my own motivation who now loves to help others get motivated and stay motivated! Whatever your level or fitness goal is, old or young, whether you're scared to make the next step or stuck at what to do I can help you.
Drop me a message or find me and you will already be on the next step to a better you.
Free consultation available.
Specialist Areas
Bespoke plan
Body confidence
Muscle tone and development
Persistent motivation
Weight loss
Qualifications
Level 3 Personal Trainer
Level 2 Gym Instructor
First Aid