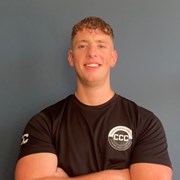 Charlie Campbell
Hello! I'm thrilled to introduce myself as a personal trainer at Pure Gym Quartermile. As a personal trainer, I'm passionate about helping people achieve their fitness goals and transform their bodies and lives.
I am excited to bring my knowledge and experience to help you achieve your fitness goals. My approach to personal training will help you to achieve your goals whether that be weight loss, muscle gain, improving overall fitness and health or even have more confidence in the gym. I'm here to guide and support you every step of the way.
About me
As someone who has personally overcome the challenges of being overweight, I understand the struggles that come with trying to shed excess pounds. That's why I'm passionate about helping others achieve their fitness goals.
I believe that my personal experience makes me uniquely qualified to do so.
I've learned that losing weight and keeping it off is not just about following a strict diet or exercise plan, but also about making lifestyle changes that are sustainable in the long term.
As a personal trainer, I will work with you to develop a customised plan that fits your unique needs and goals, while also providing the support and motivation you need to stay on track.
So, if you're ready to make a positive change in your life and achieve your fitness goals, please don't hesitate to reach out to me. Let's work together to transform your body and improve your health and wellbeing. I can't wait to meet you and get started!
Specialist Areas
Bespoke plan
Body confidence
Body fat reduction
Muscle tone and development
Persistent motivation
Strength and conditioning
Weight loss
Qualifications
BTEC Sport
Level 2 Fitness Instructor
Level 3 Personal Trainer