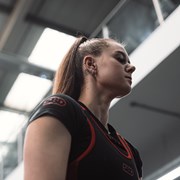 Charleigh Lacey
I specialise in strength training, gaining muscle size/mass, confidence in a gym environment and weight loss.
I have been training in the gym weight training since I was about 14/15 however I was also a competitive gymnast therefore my training was more muscular endurance based. Then for the past 2 years I've been training for muscular strength and muscle hypertrophy. Through training I have met so many people along the way who have pushed me to my limits and have also given me more knowledge along the way. 
From all of this I have fallen in love with helping people to reach their full potential by training to their highest ability. I do this by ensuring the programmes for my clients are tailored to their specific goals and that they get adapted as and when they need to, to ensure their goals are surpassed. With 24/7 support online and weekly check ins to keep up to date on progress, I will make sure all my clients are able to reach their goals and more. I also offer online coaching and bespoke programmes that are specifically designed to my clients goals, and they also receive they same support as my 1:1 clients. All of this while ensuring all my clients are living their life and reaching their goals at the same time - it is very possible!
Feel free to come and see me in the gym and have a chat about joining my team and lets reach your goals together. Or drop me a DM or email with any questions or enquiries. 
Also I offer free taster sessions!
Instagram: @charleigh_fitt
Specialist Areas
Body fat reduction
Muscle tone and development
Strength and conditioning
Weight loss
Qualifications
Level 3 Personal Trainer
Level 2 Fitness Coach
Nutritional Advisor