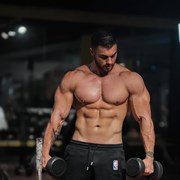 Cem Malik Sas
Hello dear sports lovers!
Here is Malik Cem Sas. Please allow me to introduce myself. I was introduced to sports when I was 5 years old. From the age of five to sixteen, I played football in the academy league in professional football clubs. It was a great adventure. Unfortunately, I had to say goodbye to my football life due to an injury at the age of sixteen. But this was only the first step in a magnificent adventure. I met the gym in order to strengthen my feet again and it was the best decision I have made in my life. This journey that I started when I was 16 is still going on.
 I reached my first professionalism at the age of 18 and started to touch people's lives. I had the chance to guide the lives of more than 100 people as a flashlight in their fitness adventure. Based on my childhood experience, I also had the opportunity to work with many performance athletes. At the same time, these journeys have always been in the light of science and research.
There is always one principle, to get maximum result in minimum time.
 You may have experienced disappointments or a lack of motivation at many gyms. But it doesn't matter, I believe in you until the end.
In this adventure, we proceed in a multi-disciplined and determined manner, and at the same time, we do not forget to smile and be positive. I would like to guide you on this path to your success. Would you like to join this change then?
I'm only one step away. Welcome to Team MCSAS then!
Specialist Areas
Bespoke plan
Body confidence
Body fat reduction
Muscle tone and development
Nutritional guidance
Persistent motivation
Sport specific training
Strength and conditioning
Weight loss
Qualifications
EREPS(European Register of Exercise Professionals)  Personal Trainer EQF Level 4
Certificate Fitness Personal Coach by Fitness Movement Instıtute
CIMSPA Certificate of Personal Trainer
First Aid