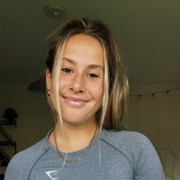 Celyn Hunt
Hi, I'm Celyn and I'm a personal trainer here in Pure Gym Newport.
My love for health and fitness originates from my background in gymnastics. After giving up the sport to complete my GCSE'S I eventually fell into weight training and I was hooked.
Feeling strong inside and outside of the gym utterly transformed my confidence mentally and physically and I haven't looked back since.
My biggest goal as a trainer Is to help my clients unlock their full potential and to give them the knowledge and education to transform their mind as well as their body.
My aim is to support and motivate my clients throughout their fitness journey, ensuring that they create life-long, sustainable healthy habits in addition to results.
Whether it's fat loss, weight gain, toning up or improving your general fitness, lets work together and smash your goals.
Kickstart your journey today and contact me via email, mobile or social media.
Instagram:@cels.fit
Email: training.celsfit@gmail.com
Mobile/Whatsapp (+44) 7950131902
Qualifications:
Level 2 Gym Instructor
Level 3 Personal trainer
Specialist areas:
Body fat reduction
Nutritional support and guidance
Weight gain
Muscle tone and development
Body confidence
Specialist Areas
Body confidence
Muscle tone and development
Nutritional guidance
Persistent motivation