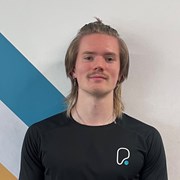 Cameron Norris
Hey! I'm Cam.
I am pretty new to the PT business but I have lots of passion for training and nutrition. Growing up as an athlete in the United States there was always a lot of pressure to be able to look and perform at a high level. This caused personal struggles with feeling positive about my body. I went through numerous attempts to get lean and develop sustainable habits for both nutrition and training. Once I learned the ins and outs to developing a sustainable and happy lifestyle that lets you see results like never before.
I'm always looking for new ways to develop not only in my own training but in coaching for all my clients and athletes that let them perform at their best and get into better shape than they've felt in the past while building a positive relationship within themselves. I will be looking to attain new qualifications and knowledge to provide the best services and results for all my clients so that I can tailor training, recovery, and nutritional plans for each of their specific goals.
All of my clients as well as anybody interested in learning new things about training and gaining overall better health have access to my social pages where I will be posting content that can directly help with achieving the desired goal for each and every one of you. My clients will also be able to reach out to me at any time whether through these socials, email, text, or even coming up to me in the gym, I will always be more than happy to take the time to help wherever I am able to.
Specialist Areas
Muscle tone and development
Nutritional guidance
Persistent motivation
Sport specific training
Weight loss
Qualifications
-Level 2 Fitness Instructor 
-Level 3 Personal Trainer 
-Level 1 Sports Coach 
-Emergency First Aid At Work