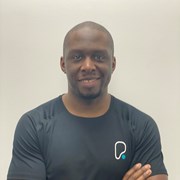 Calvin Cort
Hi
I'm a very passionate coach focused on YOUR transformation 
I will teach you the 5 pathways to becoming a fat burning machine by focusing on the 5% of your body that burns 56% of your fat calories.
It's not JUST about weight loss…it's about personal POWER. It's about reclaiming CONTROL of your life, MASTERING challenges, and being STRONGER than you could EVER be.
One of the most touching testimonials I ever received was "I came to you just for the weight loss. But stayed because it changed my life" 
That's what I WANT for YOU. And that's what I know, DEEP down is possible. 
It's ALL within your reach, so just take these few steps right now and BOOK an assessment with me and I will tell you how together WE will UNLEASH the lean, toned healthy person that's been hiding inside of you ALL along. 
Contact me to get started. 
Specialist Areas
Body fat reduction
Muscle tone and development
Weight loss
Boxing
Qualifications
Level 3 Personal Trainer
Boxing Pad Work