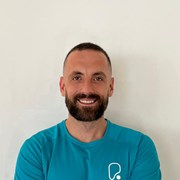 Callum Greig
I am a Personal Trainer with 10 years of experience. ​
My passion is helping you to set clear goals within the gym, and then giving YOU the tools to get the job done. I want you to gain as much from my guidance and experience as possible in the time we work together. ​
I am results driven Personal Trainer that will hold you accountable to the work that we agree to do. Which in turn, will get you to where you want to be efficiently and effectively. ​
If you have goals of your own, please feel free to come and chat to me for any advice you might need. ​
Alternatively, if you are a bit unsure of where to start, please contact me in the gym, by phone or social media. And let me guide you into your pursuit. ​
My Personal Fitness Journey began with a body transformation. Massive fat loss and muscle mass increase. I started out looking to improve my physique aesthetically. Naturally throughout my progression I started to focus on Strength, mobility, body longevity and cardiovascular health. ​
My advice to everyone is to keep seeking out new challenges and ways to get stronger, both mentally and physically. I am here when you need me! 
Specialist Areas
Body confidence
Muscle tone and development
Strength and conditioning
Weight loss
Qualifications
Level 3 Personal Trainer 

​

Gym based boxing 

​

Advanced Lifting