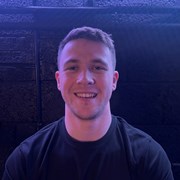 Ben McCaughey
Hi my name is Ben and I'm a personal trainer here at Pure Gym. I come from a very sporty and fitness orientated background. I've played rugby since the age of 5 and have always had a love for the gym. My other hobbies include travelling, cooking and watching TV.
When I was 18, I was underweight and had a very low muscle mass. My confidence levels were at an all time low, and I was constantly comparing myself to others. My gym sessions were extremely unstructured and as I struggled to see results, I began to feel fed up with the gym.
Fast forward 5 years, I am now the most confident I have ever been, both in, and out of the gym. So, what changed? I stopped comparing myself to others and focused on myself and being a better me. I understand how to have a better work-life balance to meet my goals, as well as leaving time to relax.
I understand the challenges when it comes to the gym. I know it can be a scary place. I've been through it all…from weight gain, weight loss and putting on muscle mass. I am passionate about helping you set realistic goals and  gain the confidence and motivation you need to smash them. If you see me on the gym floor, make sure to say hello and ill be happy to help you with anything you need!
Specialist Areas
Body confidence
Body fat reduction
Muscle tone and development
Nutritional guidance
Persistent motivation
Sport specific training
Strength and conditioning
Qualifications
Level 2 Gym Instructor
Level 3 Personal Trainer