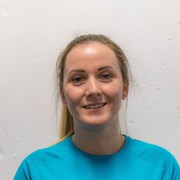 Barbara Bana
Hello there, I'm Barbs!
After my own struggles with low confidence, I gained a new outlook on using
exercise for empowerment instead of as a punishment. This taught me that
I can be strong and unstoppable mentally and physically (of course, not like
the Hulk, but strong for sure😊). Now I am determined to help others feel
the same…
So many goals to achieve and yet so many excuses! What is stopping you?
Asking for help or joining the gym can be very difficult but everyone must
start somewhere and while you are reading this, you have taken that first
step. SO, go you!
If you are looking to burn calories, drop a few dress sizes, get fit and feel
great in your body, I would love to help. Every one of my clients have
different goals and it is my mission to find out all about YOU, to ensure
YOU get the support and help that you need. You and Your goals are my
Priority! I work with a various number of ladies to build them the
confidence and passion for fitness, and I promise that you will not regret
starting.
Please, come and find me in the gym for a chat, drop me a message or let's
go for a coffee to discuss your goals!
Specialist Areas
Bespoke plan
Body confidence
Body fat reduction
Muscle tone and development
Nutritional guidance