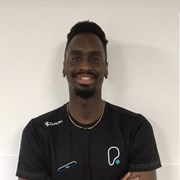 Ayo Alade
The one thing I love about health and physical fitness is that you can constantly find ways to improve yourself. It may seem easier said than done - but with structure, specificity, adaptation and progression, all of which I offer to my clients, we can ensure goals are achieved.

My knowledge of the human body and training methods are based on scientific methods that are proven by many studies to work.
Along with my passion, knowledge and motivation I can help my clients succeed in their personal goals. My programmes will incorporate full body movement using different cardiovascular and resistance machines, free weights and bodyweight exercises. Whatever your goals or background, I aim to make training programmes individualised, fun and progressive.

To find out more about what I have to offer, contact me using the details on this profile also please help yourself to a business card or come and find me on the gym floor and we can arrange a free consultation and a taster session.

With your commitment and my guidance, anything is possible. I'm not saying it will be easy, but it will definitely be worth it.
Specialist Areas
Functional specialist
Strength and conditioning
Qualifications
Level 2 Fitness Instructor
Level 3 Diploma in Personal Training
Emergency First Aid