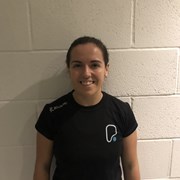 Athina Hirst
Ever since I was little, I have been mad on sport and fitness. From playing every sport growing up, to continuing my passion at the gym and classes thereafter.
Exercise has given me social confidence and helped with the positive outlook I have on life. I want to help others understand and love exercise the way I do!
Exercise has also bettered my mental health and I still feel there isn't enough emphasis on how much of it helps your mindset and wellbeing. After I've had a workout I always feel like I can take over the world and achieve anything.
What are you waiting for?
Specialist Areas
Body confidence
Body fat reduction
Muscle tone and development
Qualifications
Level 2 Fitness Instructor
Level 3 Personal Trainer