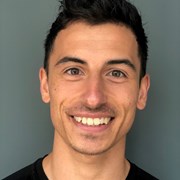 Armando Cantore
A few years ago I was looking at myself in the mirror and was tired of seeing my skinny weak reflection so I decided to take it upon myself to join a gym. I started working out in 2013 and as the months passed by I fell more and more in love with the gym and how I was benefiting from it and seeing results (gaining size and strength). Don't get me wrong it took time to see results at first but with consistency and dedication I could slowly see a transformation. After all, Rome wasn't built in a day.
From this, I grew a real passion for fitness and no longer wanted it to be a hobby but a career choice. I now want to help people achieve their goals and motivate them. I promise you once you put in the work and see results there's no better feeling.
If you see me on the gym floor don't be afraid to say hi and ask me anything I'm happy to help!
Contact me by phone or email for a free consultation and let's make a positive start on your journey!
Instagram: @armandocantore
Website: www.armandocantorept.com
Specialist Areas
Bespoke plan
Body confidence
Body fat reduction
Muscle tone and development
Nutritional guidance
Postural correction
Strength and conditioning
Weight loss
Qualifications
Specialist In Glute Building
Active IQ Level 3 Diploma in Personal Training
Level 2 Gym Instructor
Circuit Training
Advanced Nutrition