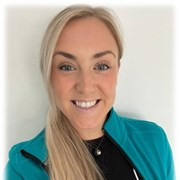 Annabel Johnson
Hi I'm Annabel,
Do you come to the gym, train hard and don't see results?

Do you sometimes lack motivation to come, and struggle with the commitment?

Are you restricting what you're eating, or eating healthy and still not seeing change?
Let's fix this.

As a coach, I am here to plan your workouts around you and your goals, to make every session count towards the end result.

I am here to support you, and remind you why you want this, pushing your motivation and drive.
I am here to promote change, get your nutrition on track without fad diets, and get your lifestyle and diet consistent, and get the results you want!
I believe that exercise is about more than just changing the way you look, but about improving your mental wellbeing, energy levels and overall happiness.
Exercise has helped me SO much so far in my life, and I want my passion to help drive you too.

I don't want you to need me forever, so let's get started, build your knowledge and skills so you are your own coach!

Want to get results, feel more confident, and have a laugh in the process?
Message me now!
Specialist Areas
Body confidence
Body fat reduction
Weight loss
Qualifications
Level 3 Personal Trainer 
Kettlebells 
Zumba 
Shift HiiT