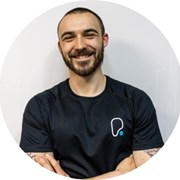 Andy Thornton
Drawing from close to a decade's worth of experience in fitness that includes martial arts, movement, dance, weight lifting, yoga and climbing. I know what it means to make the body move, to push yourself and experience all that your body is capable of. I also know what it means to start from zero. Spending all of my child-teen years being very inactive and having no connection to movement and my body. Understandably this led to low confidence, a poor self-imagine and a very weak and stiff body.
I also know what it means to feel anxious and out of place in a gym, unsure of what to do, but perhaps even worse terrified to you look stupid doing the wrong thing. 
All of this is why my approach to coaching is always led with empathy and is designed to make you feeling your most confident and capable. What's more, it's about taking the pressure off you, making it fun and creating unconscious discipline in your life, that will have wider changes that you can ever imagine before starting on your journey.
At a foundational level, you can expect from me a tailored and bespoke training plan, nutritional advice, creative and exciting training sessions and most importantly, a complete commitment to your fitness journey. Whatever the goal is, I'm here to drive you towards it every step of the way, creating accountability to the goals that are most important to YOU
Specialist Areas
Body confidence
Functional specialist
Muscle tone and development
Nutritional guidance
Persistent motivation
Postural correction
Strength and conditioning
Weight loss
Qualifications
200-hour Yoga Teacher
L4 Obesity and Diabetes Management
L3 Personal training
L2 Gym instructing