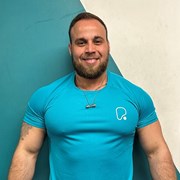 Andre Garcia
Hi, I'm Andre Garcia.
I am a former air force military who has worked in the fitness industry for more than ten years, assisting people from all over the world to lose weight and reach extraordinary levels of physical and mental transformation. Whether you're looking to lose weight, gain muscle, or just improve your overall health and wellness, I'm here to guide and motivate you every step of the way.
To empower my clients in achieving their objectives and enjoying exercise, I've mastered a variety of strategies and have coached individuals of all fitness levels. My personal philosophy is all about taking a step-by-step approach to fitness. It's unrealistic to expect overnight results, and most importantly, it's not always healthy.
As a flexible diet specialist, it is my purpose to help you build lifetime habits and healthy behaviours so that you may be the greatest version of yourself.
We can achieve your objectives if we have the correct mentality, commitment, devotion, and motivation. I take the time to understand your individual circumstances, preferences, and limitations. Once equipped with this information, I design workout programs and nutrition plans that not only work, but are sustainable and enjoyable.
Another key part of my approach is focusing on the mind-body connection. Exercise is not only great for building physical strength and endurance, but it's also a powerful way to reduce stress and improve mental health. With the right mindset, anything is possible.
Let's demolish the old paradigms that keep you from attaining your goals, and then we'll get to the new YOU.  
Tired of trying everything and never getting the desired results? Let us form callous in our minds in addition to our hands.
If you're looking for a personal trainer who is committed to your success and dedicated to helping you achieve your goals, then look no further. I offer personalized support, accountability, and guidance in a variety of formats, including email, phone, WhatsApp, video calls and in  my own App.
Get in touch TODAY!
Specialist Areas
Body confidence
Muscle tone and development
Nutritional guidance
Strength and conditioning
Weight loss
Qualifications
-Active IQ Level 2 Certificate in Fitness Instruction
-Active IQ Level 3 Certificate Personal Training 
- Optimum Nutrition for Health & Performance