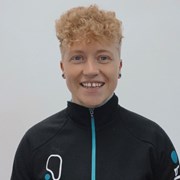 Amy 'Cass' Cassidy
Here's a little bit about me and how I could help you!
I joined the British Army, straight from school, at the age of 16 and served for 12 years. This is where my passion for fitness begun.
During my time serving, an injury led to weight gain and overall lack of fitness. I then started my own weight loss and transformation journey which has led me to where I am now… #wham.
I've also played football at a high level for Stoke City Ladies and continue to play for the British Army. I'm probably the shortest goalkeeper you'll ever meet.
I believe that any goal is achievable regardless of how big or small you think it may be.
Whether it's to build strength, lose weight or gain overall body confidence/fitness, I want to help you.
Any barrier you may have, I will be there with you to break it down and keep you motivated every step of the way. If you ever lose belief in yourself, I, as your top supporter and coach, will be there to push you through.
With the right attitude, training and drive, you can achieve better results than you ever imagined.
If you have any questions, feel free to email/phone, dm or chat to me on the gym floor, I'll be more than happy to help!
Ps. Always remember, hydration is key and being strong is sexy.
Specialist Areas
Bespoke plan
Body confidence
Body fat reduction
Muscle tone and development
Nutritional guidance
Persistent motivation
Sport specific training
Strength and conditioning
Weight loss
Qualifications
Level 3 Personal Trainer
Level 2 Fitness Instructor
Level 3 Nutrition for Physical Activity