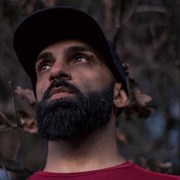 Amish Kanabar
Hi I'm Amish
 Born and raised in Tanzania, an avid sportsman throughout my life, and a single father to a beautiful daughter. Fitness has served as an anchor in my life, allowing me discipline in both my personal well-being and career, and the value it has had in my life and in those I have trained when I lived in South Africa, the USA and now the UK, inspired me to pursue a career in health, wellness and mindfulness.
 Having faced life changing challenges, as well as battling a detrimental mental state from being severely underweight, my journey has taught me the importance of having a vision, and how to turn commitment into reality, and I now possess the tools to help you do the same. Whether you would like to build muscle, tone, lose fat or shred, my methods are both effective and sustainable and will provide you with the tools to continue with or without a trainer.
 Fitness may mean something different to each individual. Gaining confidence, getting fit, reducing health risks, improving performance or looking good; the process of transformation and seeing tangible results is what I find most rewarding. Using my skills as a qualified personal trainer, together with the knowledge and experience I have gained thus far, we can work together to build a tailored approach that is enjoyable, goal oriented and sustainable.
Be sure that I will hold you accountable, and that means you will have my full support 24/7.  
Try it for yourself with a free consultation. Feel free to find me on the floor for a quick chat, or through any of the contact options.
Specialist Areas
Body confidence
Body fat reduction
Muscle tone and development
Persistent motivation
Postural correction
Strength and conditioning
Qualifications
Level 3 personal trainer

Nutritional Advisor

First Aid