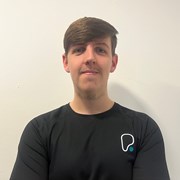 Alfie Walsh
Hello my name is Alfie and I am absolutely obsessed with fitness and would like to use my passion for the gym to help get you happy with your body. 
After being very overweight when I was younger, I knew I needed to make a change not just for my physical health but for my mental health also. So the gym became my second home (which I was more than happy with). A lot of people think the gym is there to improve your physical health and while it will do that it also has huge benefits on your mental health and will help you become a happier and healthier you.
As your personal trainer I will help and support you every step of the way and can guarantee that we will get you to the place you want to be whilst having fun. 
So what are you waiting for, get in contact today and let's get going!
Specialist Areas
Body confidence
Muscle tone and development
Weight loss
Qualifications
Level 2 Gym Instructor 
Level 3 Personal Trainer