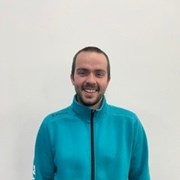 Alex Sloan
Fitness has always played a huge role in my life and if anything the pandemic has shown just how big it was to me. So I chose to do the scariest thing and completely leave my comfort zone to go and do something I have a passion for and truly love to do, and that's improve fitness and well being.
That in a nutshell is also my primary aim working with you. To help give you the tools to smash through your comfort zone with confidence and achieve the best version of yourself in your eyes! During our time together I will be there to support not only your growth in the gym but also away from it, helping to build strong habits and easier solutions to nutrition goals too.
I have been an active cyclist for the last 10 years and also regularly take part in 5-a-side football, while having worked in hospitality for the last 6 years. As such I understand how hard and stressful it can to make huge changes on your own when life tries to get in the way!
So please don't feel you have to do it alone, drop me a message and let's do it together! Also check my Instagram (@sloaner2) for food prep ideas and I look forward to hearing from you soon.
Specialist Areas
Body confidence
Muscle tone and development
Nutritional guidance
Weight loss
Qualifications
Level 2 Gym Instructor 
Level 3 Personal Trainer 
First Aid