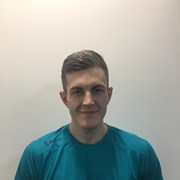 Alex Caruso
I have always been passionate about health and fitness from a young age. This mainly stems from when I started participating in various sports, including both Kickboxing and Boxing in which I still regularly compete in to this day. Because of this, I have gained knowledge and experience in what it takes both mentally and physically to prepare for sporting events within a given time frame.
During my time at University I was given the opportunity to work with specialist populations such as people with cardiovascular disease, diabetes and obesity, helping to rehabilitate and educate them on the importance of positive lifestyle change.
My desire to become a Personal Trainer mainly comes from experiencing the rewarding feeling helping people achieve their health and fitness goals gives and seeing the progression individuals make and the positive impact this has on their lives.
I believe in using a varied training approach tailored specifically for you to achieve your goal. My programmes are designed to challenge you, but also to provide you with the knowledge and confidence to enjoy training and embracing a positive, healthy lifestyle.
If you have any questions or simply want to chat feel free to approach me on the gym floor, or please contact me via phone/email.
I look forward to working with you.
Specialist Areas
Body fat reduction
Functional specialist
Sport specific training
Strength and conditioning
Boxing
Qualifications
Level 2 Fitness Instructor
Level 3 Personal Trainer
BSc Sports, Health and Exercise Science