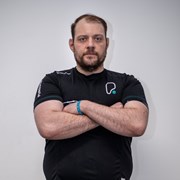 Alan Robinson
I started to get into fitness about five years ago, as a very over weight person weighing over 24 stone I needed to make a change. Luckily I got a job working for a supplements company and started to learn about nutrition through the Personal Trainers that would shop at the store I worked in. 
I realised I knew nothing about nutrition as it's not something we were taught in schools as my knowledge grew and I started to clean my diet. I began doing HIIT classes like metafit and weight training and began to shed the weight I ended up losing 11 stone in just over 12 months. I decided to go for my Pt qualification after my transformation because I wanted to help people who are in the same position as I was. It became a passion to drive people to become the best version of themselves because to me that's worth more than any amount of money.  
I run summer bootcamps that have an overall weight loss of over 30 stone in over 15 clients. I specialise in weight loss and muscle building with nutrition plans tailored to anyone's needs 
I will help you to believe in yourself and push you further than you have been pushed before let's get the results you want and contact me to today for a free consultation. Help me to help you and remember you can't out-train a bad diet and you're capable of anything if you believe in yourself.
Specialist Areas
Bespoke plan
Body fat reduction
Nutritional guidance
Persistent motivation
Weight loss
Boxing
Qualifications
Level 2 Gym Instructor
Level 3 Personal Trainer
Circuits Instructor