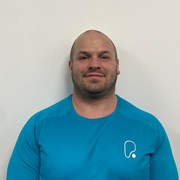 Alan Jemison
Strength training has fascinated me since my teens, soon what started as recreation turned into the huge interest that I am very passionate about. In my 20s I started entering powerlifting and strongman events and have competed against some of the strongest men in the world.
Now in my 30s, I am a level 4 strength and conditioning coach able to utilize the knowledge and experience gained over 15 years in my field to help you gain the results you want. Achieving the best from your fitness plan requires discipline and determination. The sessions that I devise in consultation with you will provide you with everything you need to succeed in your journey of strength and fitness.
From personal experience I understand how exercise can have a positive impact on mental health. Fully understanding how training and exercise can help bring about real and permanent change for good is the foundation stone for my techniques.
I engage in continual professional development and hold certificates in the areas of corrective exercise and performance enhancement. I believe training to be a marathon not a sprint so in my training sessions I put emphasis on taking care of your body and avoiding injuries in order to ensure the longevity of your strength and fitness. Feel free to contact me if you need any help on your fitness journey, I look forward to hearing  from you.
Specialist Areas
Postural correction
Strength and conditioning
Qualifications
Level 3 Personal Training
Level 2 Fitness Coach
Level 4 Strength and Conditioning 
Corrective Exercise
Performance Enhancement