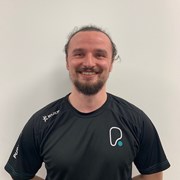 Aiden Ward
Hi my name is Aiden and I'm a Personal Trainer at PureGym in Aylesbury. I Also run my own business AW Fitness Academy.
My love for fitness started at an early age playing football for 15 years for my local football team. 
I've been training since the age of 17 helping me build self confidence but also help me achieve my goal of getting into the British Army. Served 4 years in 5 Rifles at Bulford camp as an infantry solider. 
Unfortunately, my journey in the Army was cut short due to injuries I received but this helped me with how to deal with injuries and how to prevent them as best as possible. 
I'm not just your PT for when you are in the gym. I will always be a phone call or email away and I'll be happy to talk to you whenever you need me no matter what it is.  
Please feel free to come and speak to me whenever you see me in the gym and I'll be happy to help the best I can.
All in all welcome to PureGym and have fun.
Specialist Areas
Functional specialist
Strength and conditioning
Weight loss
Qualifications
-Level 2 Fitness Instructor
-Level 3 Personal Trainer
-Certified Circuit and Bootcamp Instructor