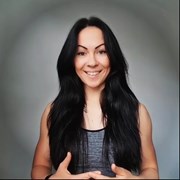 Adel Medveczki
Hi, My name is Adel. As a Personal Trainer and Pn1 Certified Nutrition Coach, I am committed to helping people to achieve their goals and live better lives. I've always had a great passion for sports and as a former footballer sport taught me a lot especially about the power of teamwork.
I truly believe having a customized workout plan with well-designed eating habits have a greater effect than body composition. I like to focus on the bigger picture, which is implementing small adjustments that contribute to a lifestyle change rather than aiming for short-term benefits and quick fixes. I think it's always important to celebrate the small wins along the way to stay focused and motivated.
I am extremely passionate about my job and love seeing my clients smashing their personal goals, becoming more confident and having a better and healthier life. I would really like to see that smile on your face too and being part of your success. 
Be brave and let me help you to find your perfect balance in life and sport. I look forward to training you! Feel free to contact me!
@vitadelfitness
Specialist Areas
Body fat reduction
Muscle tone and development
Nutritional guidance
Strength and conditioning
Weight loss
Qualifications
Level 2 Fitness Instructor
Level 3 Personal Trainer
Pn1 Certified Nutrition Coach