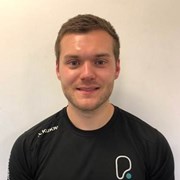 Adam Morris
Hi, I'm Adam and as a Personal Trainer here at Pure Gym, I aim to help people get the best possible results by tailoring their training and nutrition around their current lifestyle to ensure fantastic, long term, sustainable results.
I work with a wide range of clients with various goals from those who are new to the gym looking to lose weight, get fitter and have lacked motivation in the past, to those looking to build muscle and strength and take their current training to the next level.
Every person is different and requires a different approach to their training, nutrition and mindset. That's why I work closely with all of my clients to ensure they are doing the right training programme for their goals, eating the right way that suits their goals, lifestyle and preferences and adjust when necessary to ensure constant progress.
Previous to PureGym, I worked in high-stress office jobs working very long hours under incredibly demanding conditions while fitting in my own training and nutrition plans, so understand how maintaining a healthy lifestyle can be difficult with the pressures of work, family and social life.
Please feel free to contact me to with any questions or to arrange a consultation to discuss your goals and what the best path would be for you.
Website: www.acmfit.com 
Facebook: Adam C. Morris - Fitness Coach
Instagram: @adamcmorris
Twitter: @adamcmorris
Specialist Areas
Body confidence
Body fat reduction
Muscle tone and development
Persistent motivation
Strength and conditioning
Qualifications
Level 2 Gym Instruction
Level 3 Personal Training