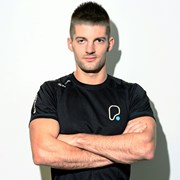 Contact
Free first session offered
Email me
Adam Kalotai
The human body is amazing - do you make the most out of it?
I want to help you move better in the gym and in life, decrease your body's aches and pains and help you reach your true athletic potential.
Master how your body works and accept any challenge knowing, you can do it. Animal flow, yoga class, crossfit, Ironman, you name it - you will have the support. Believe me, I do them all and you can too.
Learn to take care of your body, improve your general fitness, get in the best shape of your life, achieve your lifelong goals and create the best version of you.
If you are not sure how, let's have a chat.
Find out more at www.akafitpro.com
Facebook / Instagram @ AkaFitPro
Specialist Areas
Functional specialist
Injury prevention and rehabilitation
Muscle tone and development
Nutritional guidance
Postural correction
Sport specific training
Strength and conditioning
Qualifications
Strength & Conditioning Coach
Movement & Mobility Specialist
Performance Enhancement Specialist
Personal Trainer / CrossFit Trainer / Pilates, TRX, Spin Instructor
Nutritionist