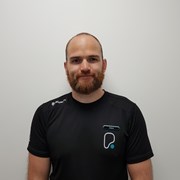 Adam Glover
With more than two years' experience in Personal Training, I have trained many clients from all ages and backgrounds some of whom are advanced and others who have never stepped foot in a gym before. Each of my clients has received the same support and guidance from me and I have helped all of them reach and exceed their original goals in their own specific ways.
I am a Level 4 Personal Trainer and over the past few years I have devoted time to educating myself further to become a better coach and improve my skills so that I can help all my clients achieve their goals as quickly as possible in a safe and effective manner.
With my knowledge and experience, I offer one-to-one personal, friendly and bespoke training sessions designed for you and your specific goals, constant support and guidance throughout your programme and nutritional advice.
Whether you're a beginner or an advanced individual, or whether you are interested in fat loss, toning or muscle building, my knowledge and experience will help you achieve your goal.
For more information or to book your complimentary consultation, feel free to contact me anytime on 07980 774 830 or email me at adamgloverpt@hotmail.com
Specialist Areas
Bespoke plan
Body fat reduction
Muscle tone and development
Nutritional guidance
Weight loss
Qualifications
 Level 4 Personal Trainer
 Level 4 Specialist in Obesity & Diabetes
 Level 3 Specialist in exercise referral
 Level 3 Premier Personal Trainer
 Advanced coaching academy student, Phil Learney
 Advanced nutritional for weight management
 Strength and conditioning workshop
 First Aid
 Premier Kettlebell instructor