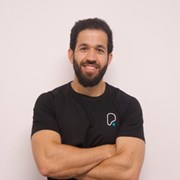 Abdullah Azizi
I am a Personal trainer and Online Coach at Pure Gym Greenwich and have been since 2016.
I am here to help you to lose 10KG+ Body fat / get toned and make you stronger without cutting carbs and still eating out!
This is achieved through a combination of weight-lifting, flexible diet, and minimal cardio.
I believe life is about balance; it is possible to enjoy your food, and have fun, all whilst changing your body.
This is a lifestyle I live by, and I have been passionate about fitness for 15+ years and have even competed professionally.
Whether you're a beginner or an experienced gym-goer, I will show you how to train smarter, eat better, and reach your goals.
If you're ready to be part of my team and be the best version of yourself, text YES to 07453307126 and let's get started!
Specialist Areas
Body fat reduction
Muscle tone and development
Strength and conditioning
Qualifications
Level 3 Personal Trainer
Olympic Lifting
Boxing